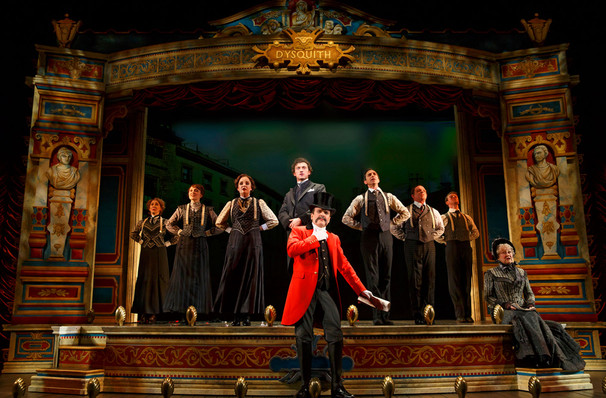 "A Gentlemen's Guide to Love and Murder"
Broadway is/has been filled with shows that push the boundaries of staging technology - "Aladdin"'s flying carpet, "Phantom"'s falling chandelier, "Spiderman" slinging webs, "Rocky"'s bloody bout that closes the show. (Interestingly, four shows I never saw - and have no plans to!)
So it's refreshing to see a show that relies on some of the lowest-tech ways of achieving a desired effect. I loved "The 39 Steps," which told a complex story (based on the Hitchcock movie of the same name) using the simplest of set pieces, costume changes and pantomime.
Likewise, "A Gentlemen's Guide to Love and Murder" takes the audience inside an Edwardian music hall to tell the story of Montague Navarro, a young man who, upon the death of his mother, learns that he is actually a member of one of England's leading families, and is ninth in line for a lucrative earldom. Given the title, you can predict what happens next, as Monty finds a way to eliminate the rightful heirs who stand between him and becoming lord of Highhurst Castle.
"AGGTLAM" aims to be nothing more than entertaining, and succeeds on almost every level. The songs are fun, witty and - even though they feel right in tune with early 20th century song styles - have a very modern sensibility, at least in terms of winking irony. (Case in point, "Better With a Man" with its subtle - or not so - homoerotic undertones.)
The performances by the two leads are well-worthy of their Tony nominations. Jefferson Mays takes on eight different roles - both male and female. Not coincidentally, these are the eight characters who stand between Monty and the earldom he desires as revenge for the D'Ysquith family disinheriting his mother after she married a Spaniard. He's brilliant - and hysterical - in all of them. Mays positively devours the comic possibilities that come with each.
Balancing Mays' manic work is a more subtle - and skilled - performance from Bryce Pinkham as Monty. (Pinkham, I will note, is the nephew of a long-time client and collaborator of mine in San Francisco.) Pinkham has one of the best Broadway tenors I've ever heard - strong and nuanced with a clear, resonant tone. And though many performers can command a Broadway stage with high-energy hijinks, Pinkham shows incredible skill in slower, more measured actions - that deliver tremendous dramatic, as well as comedic, impact.
Although "AGGTLAM" is all about fun, with seemingly no other agenda, it does get in what seems to be a dig at the intellect-free nature of the Fox News hosts in one of the first murders - which also delivers one of the best special effects, using a simple projection and a bit of physical comedy from co-star Jefferson Mays to simulate a fall from a bell tower. Oh, and a lovely SPLAT! sound effect.
"AGGTLAM" garnered the most Tony nominations this year, with 10, and though I have yet to see any of the other nominees in its categories, seems well-deserving of them all - especially Alexander Dodge's scenic design and Darko Tresnjak's direction.
"City of Conversation"
Today, Washington is a city in concrete. Not the literal sort that composes the sidewalks and foundations of buildings, but the metaphorical sort - the wet, sticky stuff that seems to have entrapped Congress so they do nothing at all but draw salaries and benefits and hurl invective at their opponents.
It was not always thus. Apparently, according to this sparkling new play at the Mitzi E. Newhouse Theater at Lincoln Center, lots of work
used
to get done over long dinners in the homes of Georgetown power players. Politicians would rail at each other from 9 to 5, but when cocktail hour rolled around and they were out of the public eye and in a richly-appointed drawing room somewhere, bargains were negotiated and deals made.
In three acts, each set during three presidencies (Carter, Reagan and Obama), playwright Anthony Giardina shows how changing times put an end to all of that. Though the times change, and generations move from infancy to maturity, all three acts orbit around a single glowing sun - Hester Farris, a hostess with the mostest who revels in being near the political power players. As Farris, Jan Maxwell is stunning. Sharp, biting, relentless - but with a real heart and strongly-held values that allow us to forgive some of her harsher positions.
As the show opens, Farris's son Colin is home after finishing a graduate degree at the London School of Economics. With him is his new fiancé, Anna, also an LSE graduate. But much to Hester's dismay, both Chandler and (especially) his new paramour have embraced a more conservative political line that will soon rise to power with the election of Ronald Reagan. Watching Anna and Hester square off is the engine for the drama of the first act, and what is set in motion on that first night will power everything that comes after. "Don't blame yourself," Anna pronounces early on. "I don't," Hester replies, rather coolly. And when it becomes clear to Hester just how ambitious (and ruthless) An
na is, she throws a not-so-subtle reference to another example of a young woman appearing charming and innocent when her real intent is to seize the position of an older woman. "I think I saw this movie," Hester announces. When Anna fails to pick up on the reference, Hester continues: "The young faux-naif making up to the aging star. It's called 'All About Eve.'"
All the action takes place in a gorgeous Georgian living room, yet another example of John Lee Beatty's always-excellent work. (Again, how could Tony have passed this over? But I haven't seen the other nominees yet.) A woman in the row in front of me commented to her companion, "I want to live in that house."
The action unfolds and we watch 30 years pass. And though the conversation continues, no one ever gets any closer. In fact, just the opposite occurs. Battle lines are drawn more clearly, resentments become long-lived grudges and less and less gets done. Just like the
real
Washington, DC.